Paella Success with an LPG Burner!
Using a quality paella burner is the best start to getting your perfect paella dish created. But why choose a Flame VLC paella burner? Plus, check out this traditional Spanish paella recipe suggested by Flame VLC themselves!
Who is Flame VLC?

Flame VLC are the manufactures of our premium paella range of burners and accessories. A family owned company based in Valencia, Spain; they've spent over 50 years perfecting the paella burner so you can create beautiful food.
"Flames VLC is a company with a lifetime of experience dedicated to this sector. It is characterized by three principles: innovation, high-quality and maximum power."
All of there gas burners are manufactured at their factory in Valencia, Spain and no accessories are imported. They ensure stringent control from the first piece to the operational test phase.
Patented Special Features!
Flame VLC have designed paella burners which are unique. Their patented system will not be found on any other burners on the market.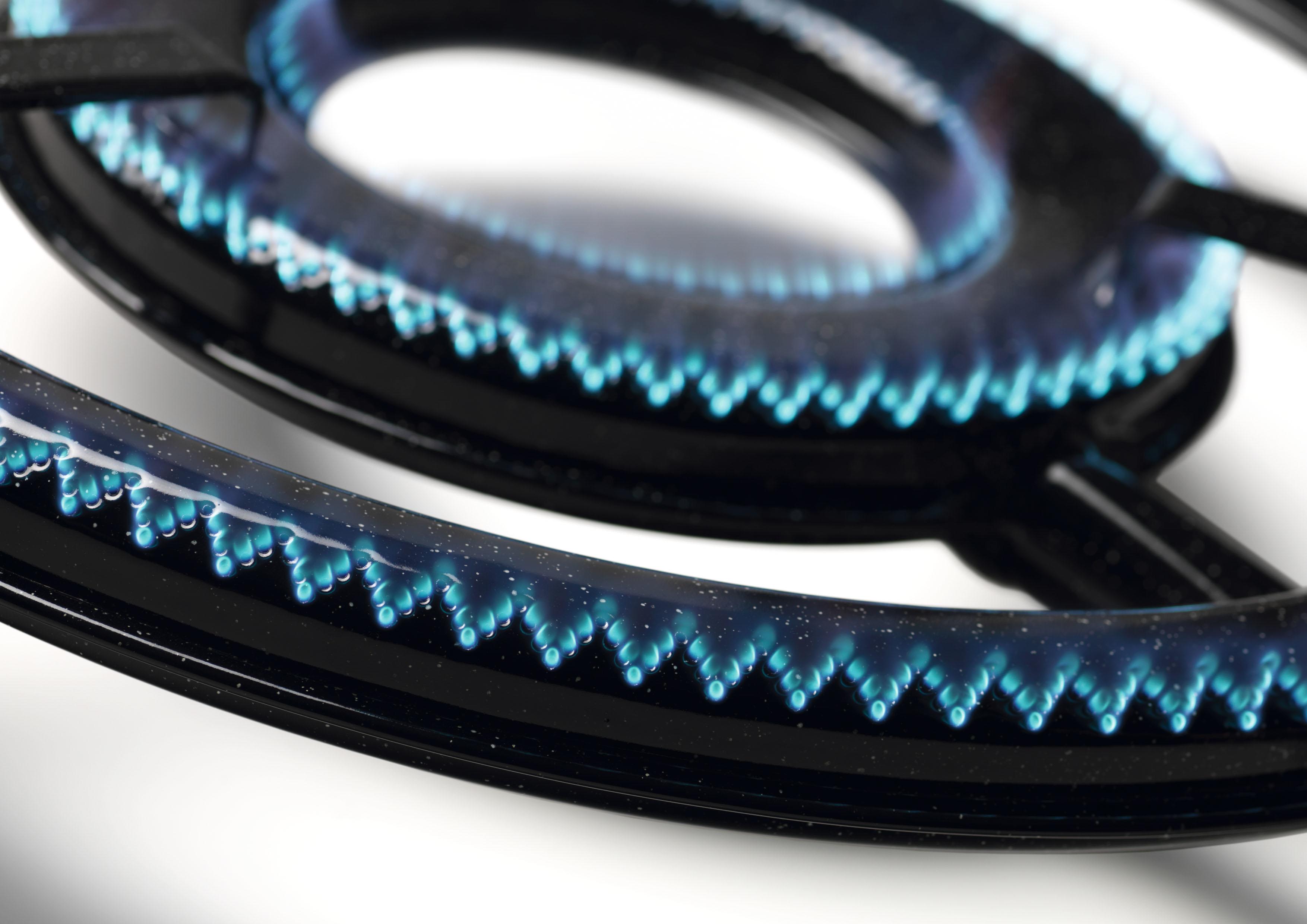 What The Patented "Optim System" Gives You:
Increased gas output.
A more powerful, abundant flame.
Lateral flame position.
Greater flame reach.
Better combustion.
Which LPG Burner Should I Choose?
What type of burner do I need?
I Gas Direct has a variety of different sized Flame VLC paella burners. These range from 380mm to the larger 600mm type. If all your using your burner for is private cooking, you'll probably only need the smaller sized burner. However, for bigger catering events we'd recommend either the 500mm or 600mm gas burner, so you can cook your large quantities at once.
We also stock a selection of paella pans and support legs which can complement your burner choice. If you're unsure what would work best with your gas burner, contact us and we'll be happy to help.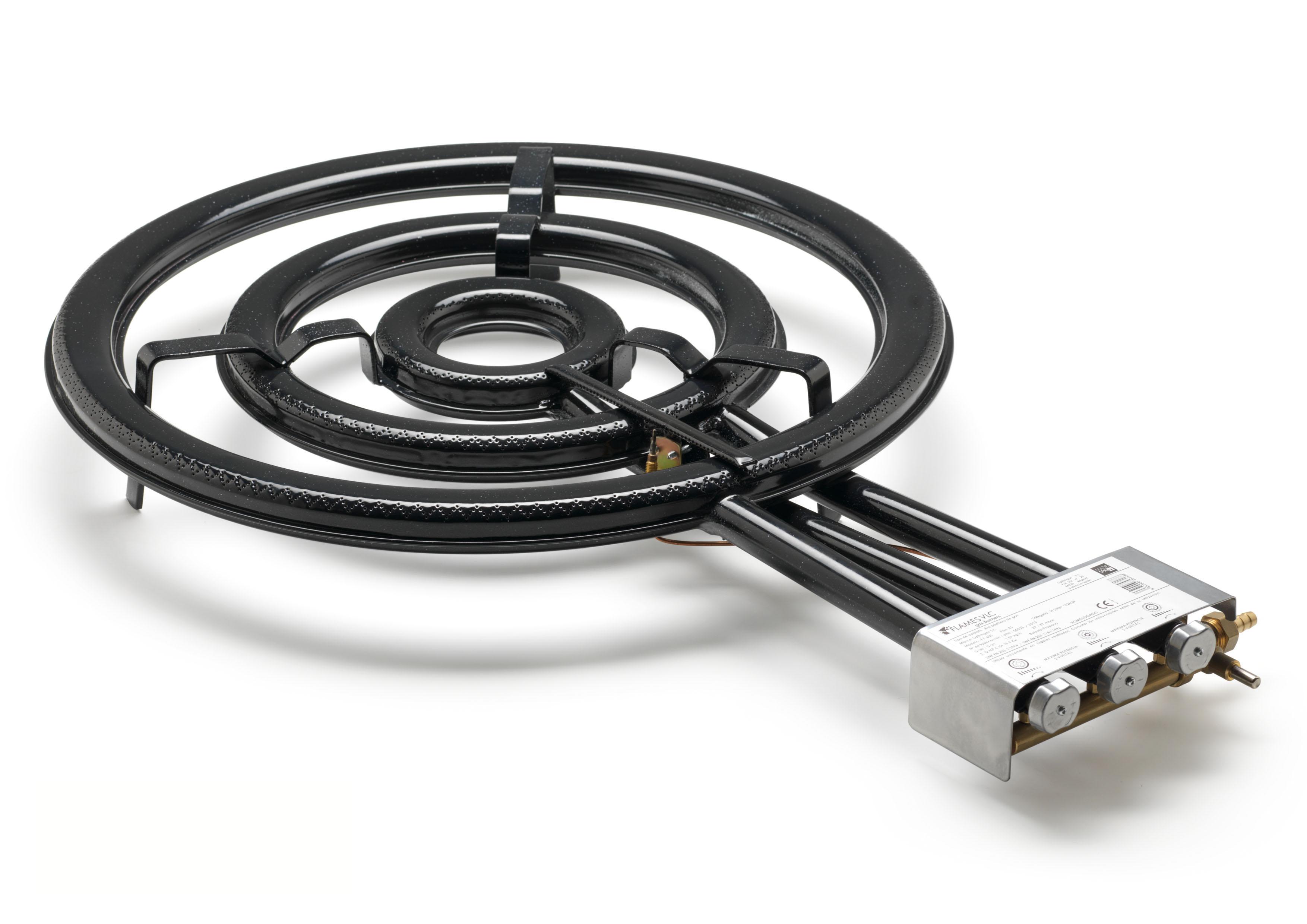 You might want to consider if you require a burner with a thermocouple* fitted. Choosing a paella gas burner with this safety feature allows you to use your burner both outdoors and indoors and if nothing else, gives you extra security and peace of mind while cooking.
*(A thermocouple is a safety device which shuts the gas flow off should your burner flame go out. They can also be known as a flame failure device or FFD.)
What gas hose should I buy?
Gas hose can be purchased by the metre and the standard size is 8mm. Your hose should conform to British standard BS3212/2 and display the date of manufacture. Using a high-quality LPG rubber hose is advised as it will be much easier to work with.
You can also purchase over-braided hose from I Gas Direct which gives your gas hose an extra level of protection against accidental cutting while being used.
You'll need the right regulator!
A popular regulator used with catering equipment is our R157. This is a low-pressure Propane regulator with a 37mbar operating pressure and 1.5kg/hr capacity. With a UK POL nut thread, they screw directly into standard Propane Calor Gas cylinders and have an 8mm hose nozzle which can be pushed directly into your 8mm gas hose.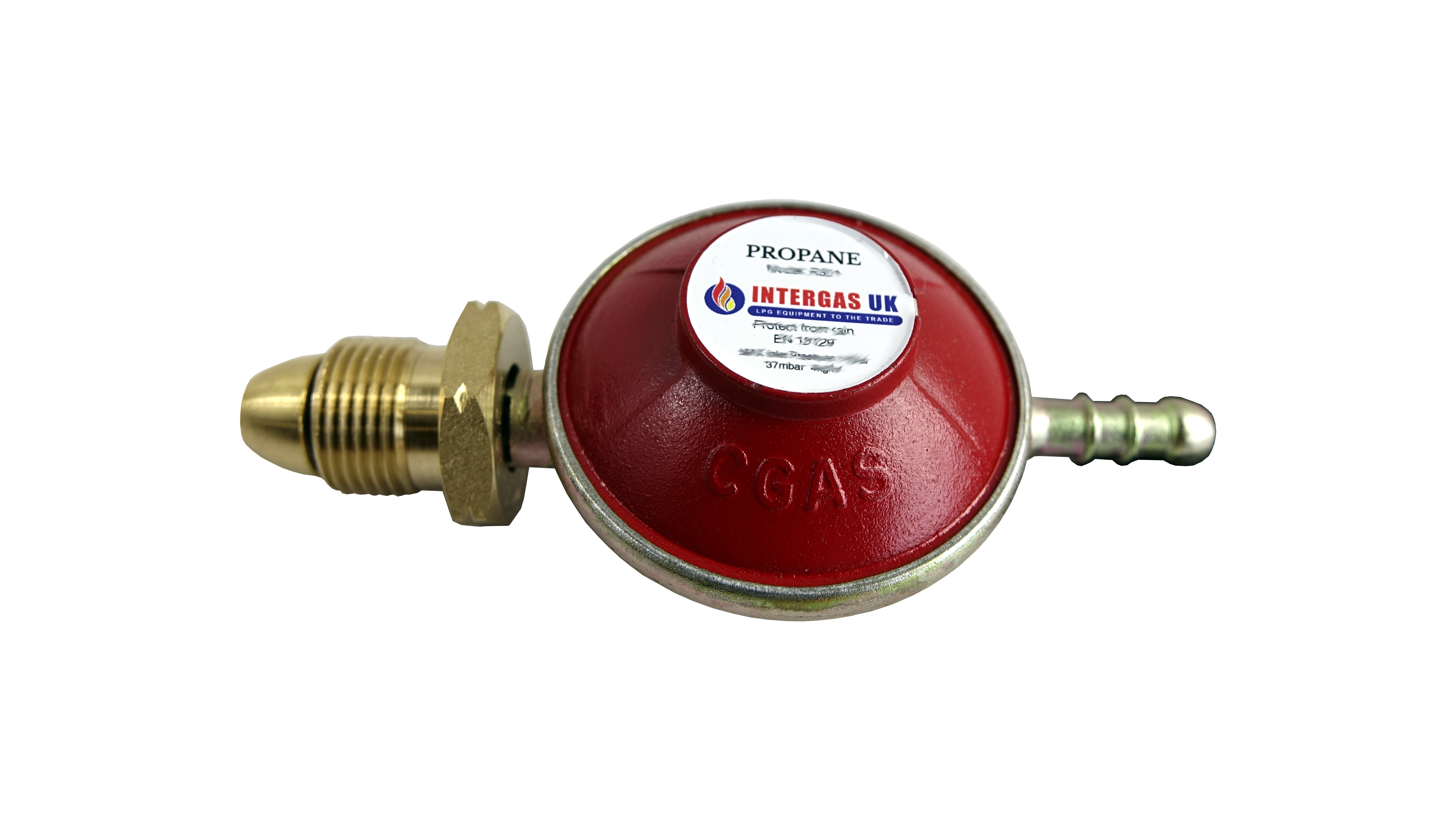 Remember to ask the advice of your gas engineer who will be installing your equipment.
Now that you're all set, all that is left to do is for you to get cooking. Check out Flame VLC's traditional Valencia paella recipe and enjoy!
Traditional Valencian Paella Recipe
Flame VLC have provided us with a wonderful paella recipe traditional to Valencia.
Ingredients - Suitable for 10 people
1500g Chicken
700g Rabbit
4 Grated Fresh Tomatoes
750g Broad Green Beans
250g Lima Beans
3 or 4 Chopped Artichokes (optional)
2 Cloves of Garlic
1 Spoonful of Ground Paprika
Saffron Threads
Approx. 3 litres Water
25cl Olive Oil
100g Rice per person
Fresh Rosemary Sprigs
Salt for Seasoning
The recommended paella pan size is 60cm.
Method
Pour the olive oil into the centre of the paella pan and heat. When you notice the oil smoking, add the Chicken and Rabbit. Ensure that the meat is fully browned and then push it to the edges of the paella pan to prevent burning.
Next, add the chopped broad beans and sauté until golden. In the centre of the pan, make a space and add the tomatoes and garlic. Whilst frying add the paprika and slightly reduce the heat. Sauté for a further few minutes, stirring all the contents of the pan to prevent burning.
Tip: Have some water ready to add immediately will prevent the Paprika from getting burnt!
Pour in the 3 litres of water and cook for approximately 25 minutes at medium heat, ensuring the water does not boil excessively. Continue to monitor the water level. Season with salt to taste. This has now created your stock ready for the rice.
Add the lima beans and one minute later, add the rice. When it starts to boil again, add the artichokes and saffron threads. Stir the rice evenly in the pan, ensuring it does not stick to the meat or vegetables.
Cook at a very high heat until you see the half-cooked rice begin to surface. This usually take around 7 - 8 minutes. Once you see the rice surfacing, reduce the heat, add a few sprigs of rosemary and simmer for a further 3 - 4 minutes.
Tip: It's traditional in Valencia to let the paella rest for a few minutes before serving it.
Enjoy! (Or as said in Spanish, Disfrutar!)
Needing you purchase your paella catering equipment? Click HERE to be taken directly to our LPG equipment product site!
Have a question about your LPG catering requirements? Feel free to get in touch! Contact Us!