Keep Safe When Using a Gas Torch Kit on a Flat Roof!
In this blog we will be exploring how to flat roof and keeping safe while doing it. We will discuss which torch kit is the best to use and why there the best torch kits!
What is a Flat Roof?
A flat roof is a roof which is completely or almost level. A flat roof is laid with roofing felt and a gas Torch Kit. Almost all flat roofs are laid on a slight angle to ensure that the rain can run off the lowered side.
What Torch Kit Should I Use?
One of the most important tools you will need is the Gas Torch Kit, which is needed to lay the felt roof. *Please Note, we firmly suggest hiring a professional to lay your roof*
Propane Gas is the most used gas for roofing, it is affordable and available worldwide. Our Brenner Torch Kit comes with an Adjustable Propane Regulator.
Your Roofing Torch should be fitted with a large burner, most torch kits come with a burner head sizing from 45mm to 60mm. We suggest buying a torch kit with a long Neck Tube, this will help you stand up straight, rather than being bent over because this could course you to have pain in your back.
You should also purchase a torch kit with a large amount of hose, this will help you complete laying a length of roofing felt without having to stop to move the propane bottle. We would also suggest purchasing a large Propane Bottle rather then a small bottle, having a small bottle carries less Gas and will be harder to carry around with you.
I know the perfect one for you to use, our E929T Brenner Single Head Economy Torch Kit, 60mm Burner,
600mm Neck Tube, Handle & trigger, 3 metres high pressure hose BS3212/2, High pressure adjustable Propane regulator, Complete kit ready to use. Perfect for flat roofing applications, thermoplastic road markings, road line maintenance and weed burning.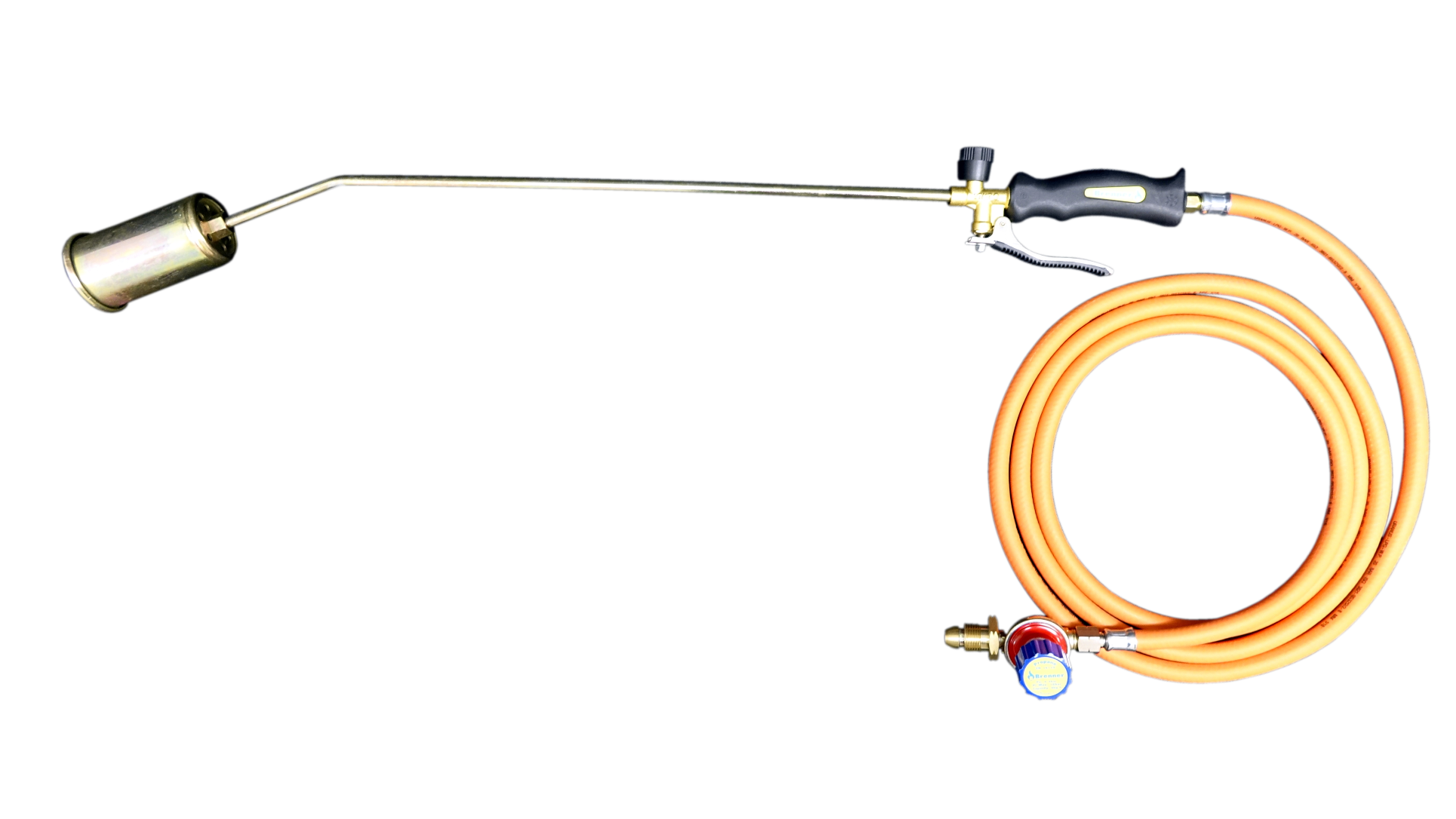 If you would like to purchase this Torch Kit, please click HERE to order!
How to Stay Safe?
Laying your felt roof can be dangerous because you are using fire, you should ensure the following precautions are taken before starting any work.
The area you are working is clear of any dust or waste. These can be flammable, so making use there is none on your work area will help avoid this risk.
Have a suitable fire extinguisher on hand, this is important in case of any accidents. A lot of businesses suggest having a wet towel handy for laying the torch kit sown without damaging anything.
We recommend you wear long trousers, boots, goggles, and gloves.
Check your equipment, this ensures your job will run smoothly. You should check the roofing felt is in good condition, also check over your torch kit. Examine the hose and torch kit for any wear, damages, or leaks. The best way to check for a leak is by doing the following 4 steps:

Purchase a Gas Leak Detector Spray or using washing up liquid and water to create soapy water.

Apply this to your gas cylinder where the valve and inlet of the regulator connect.

Slowly open the cylinder valve.

If you hear gas escaping or see bubbles forming, then you have a leak.
How to use your Gas Torch to lay your felt?
You should roll your felt out to see how it lays on the roof, and plan how you are going to overlap. You should aim to have 3" of overlap on the edge and 6" of overlap on the ends of the roll. Once you are happy with the position, move your torch evenly and smoothly over the area, working in a L-Shape. Start burning from the overlap side and moving to the far edge. The torch is pushed out a little, so the flame is catching the substrate as they sweep back to the lap edge.
You can tell when the bitumen is at the correct temperature when it forms a slight sheen. There is a protective coat on the underside of the roofing felt, this should burn off when application temperature is met.
If you see heavy smoke this means the temperature is too hot, you should back off. You should see some bitumen flowing out from the overlap once you have unrolled the felt and joints formed. Less will starve the seam, and if there is more than an inch of follow out then the felt is being overheated.
You should apply pressure behind the seam to help achieve good flow out and ensure adhesion by the overlap. Many professional Roofing Companies use a weighted roller for this, but you can walk next to the edge, as long as everyone is careful to not step in the bitumen.
Once, you have finished laying down the felt, you should check the seams carefully. Any areas where the seam has been starved of bitumen can be fixed by heating the end of a trowel with the torch and slide it under the raised area of the overlap. When the area is hot enough the trowel can be slid out and pressure can be applied to the joint. If this has worked there will be a flow out of bitumen and good adhesion at the seam after it has cooled.