How To Keep Safe When Using a Gas Torch Kit on a Flat Roof!
In this blog we will be exploring flat roofing and how to make sure you keep safe while using a gas burner. We will also be discussing which torch kit is the best for your flat roofing requirements and why!
What is a Flat Roof?
A flat roof is a roof which is completely, or almost level. Almost all flat roofs are laid on a slight angle to ensure that the rain can run off the lowered side. This form of roof is popular for most warm climate countries but became popular in the UK after the second world war, as it was seen as a cheaper alternative to traditional pitched roofs. A flat roof is commonly laid with a roofing felt or 'torch on' felt with a gas torch kit but other materials and methods can be used.
Flat roof materials commonly used are:
Bituminous felt
Asphalt
A Metal such as lead or copper
Green flat roofs are also starting to become popular as they provide many environmental benefits by absorbing the carbon dioxide in the atmosphere. These types of roofs also create an excellent habitat for various insects and birds too.
What Torch Kit Should I Use?
*Please Note, we firmly suggest hiring a professional to lay your roof*
When using torch on felt for your flat roof, you will require a high-powered gas burner to create the heat needed to lay the felt onto the roof.
It's best to have your roofing torch fitted with a large burner. Most popular gas torch kits come complete with a burner head sizing from 45mm to 60mm. We would also suggest buying a roofer's torch that has a long neck tube, as this will eliminate the issue of having to bend over. Often roofing torches will have a 600mm length neck tube fitted and this seems to be the most popular choice for roofing contractors.
It is a personal preference to what length of hose you want on your burner kit. Some gas torches, like our E929T economy kit, come complete with three metres of hose attached. However, it is possible to get gas hose lengths of up to ten metres. The longer length of hose enables you to move more freely around your working area, without having to stop to move your Propane gas cylinder around with you. But always make sure you don't accidently burn through your longer hose or trip on it!
What are the different types of torch kits available?
Economy: Economy torch kits are now extremely popular. They are often a lot cheaper than branded premium kits such as Sievert but they still do a fantastic job. Your torch will probably come with a shorter length of gas hose and it's common for the burner, neck, and handle to be pre-fixed together, meaning spares aren't really an option should you snap the lance or break a connection, but for the price, you could buy a few economy gas burners for the same price of one premium branded torch. Our most popular economy torch is our E929T Brenner single head torch kit, which comes complete with a 60mm burner, 600mm neck tube, 3 metres of high-pressure hose and a high-pressure adjustable Propane regulator.
Premium: Most torch kit brands will offer a premium Propane burner kit. With our premium Brenner range, we have a wider choice of neck tubes and burner sizes, meaning we can create more variety of torch kits for our customers. The propane torches come with 5m metres of high-pressure LPG hose and a high-pressure adjustable Propane regulator, so the kit is ready to use. Some of our premium range torches also have a swivel attachment on the end of their handles, preventing your gas hose from kinking when in use. Spares are also an option for this type of torch kit. Replacement gas burner heads, neck tubes and handles are all available to purchase.
Multi-head: If you're needing to cover a wide surface area, a multi-headed torch is a great option. They can come with 2, 3 or 4 burners.
Self-Igniting: You can also find self-igniting torch kits which have a piezo ignition system fitted to them. Cut the hassle out of lighting your torch with a flint spark lighter by purchasing one of these kits. We have recently introduced a new self-igniting piezo torch kit to our product range, and it's been extremely popular!
All these types of felt roofing torch kits are available on our shop, at www.igasdirect.co.uk.
Our best seller is our E929T economy roofers' torch. This one would be the perfect one for you to use!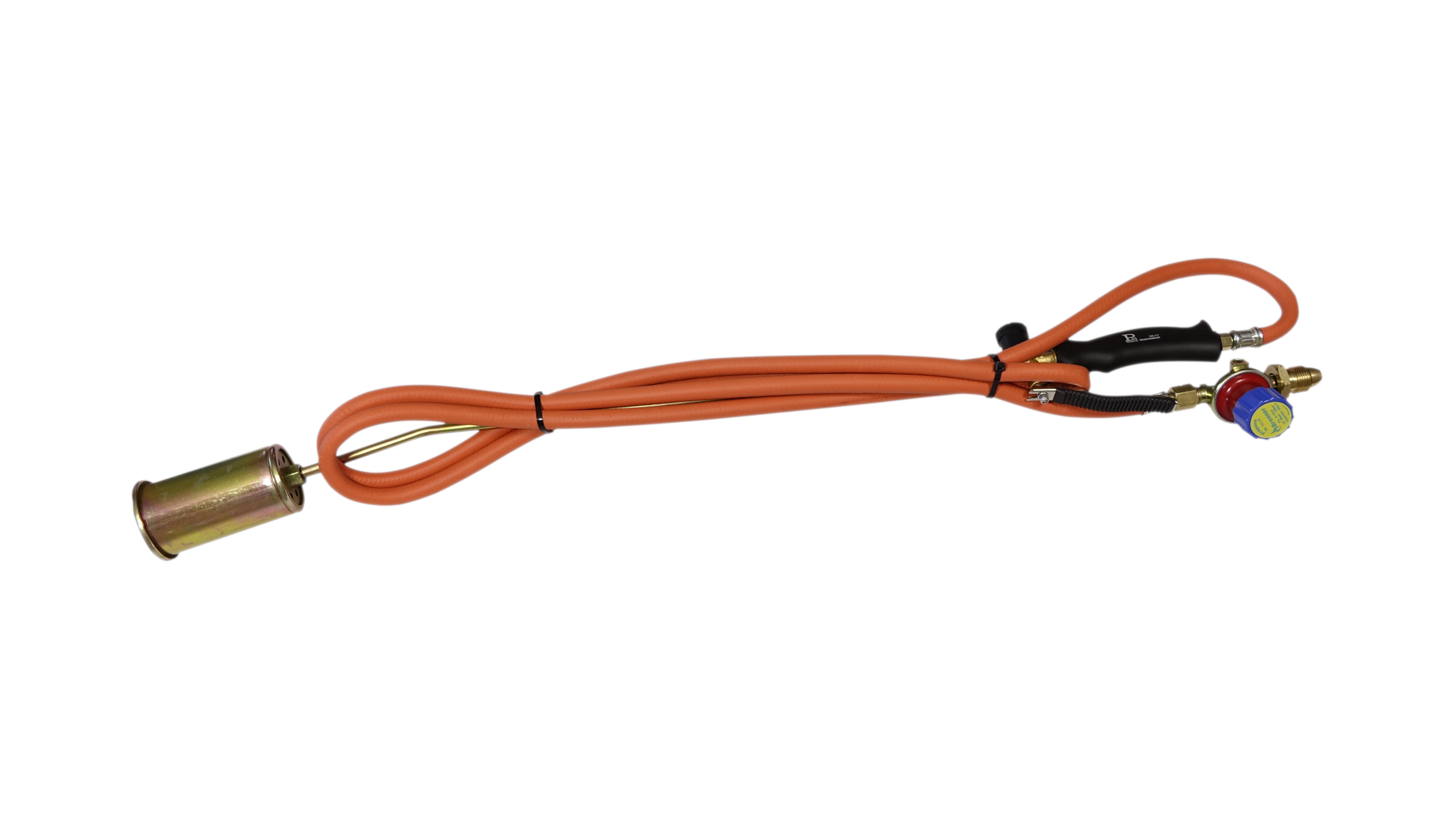 If you would like to purchase this Torch Kit, please click HERE to order!
How to Stay Safe?
Laying your felt roof can be dangerous because you are dealing with high powered roofers' equipment. You should ensure the following precautions are taken before starting any work.
The area you are working on is clean and clear of any waste. Waste can be flammable, so making sure your surface area is tidy will help avoid this risk.
Have a suitable fire extinguisher on hand, this is important in case of any accidents.
We recommend you wear suitable clothing. Long trousers, boots, safety goggles, and gloves.
Make sure you regularly check your gas equipment. Examine the hose and torch kit for any wear, damages, or leaks. The best way to check for a leak is by doing the following 4 steps:
Purchase a Gas Leak Detector Spray or use a soapy solution made from washing up liquid and water.
Apply this to your gas cylinder where the valve and inlet of the regulator connect.
Slowly open the cylinder valve.
If you hear gas escaping or see bubbles forming, then you have a leak.
NEVER test a suspected leak with an open flame.
You should also check the roofing felt is in good condition before you start the process.

Needing to purchase a roofing torch kit? Click HERE to be taken directly to our LPG equipment product site!
Have a question about your LPG torch kit? Feel free to get in touch!
CLICK TO CONTACT I GAS DIRECT.