How Does A Gas Changeover Valve Work?
Thinking of purchasing an LPG changeover valve for your home, business, or caravan? Unsure of what type to choose? How it works and what to do once you've bought one? We'll be talking all things changeover valves to help you understand the equipment, so you can make your best decision!
What Changeover Valve Should I Choose?
There are 3 main types of changeovers currently on the UK market. Manual, automatic and a changeover with an over pressure shut off fitted (OPSO).
Which one should you choose? Below are some of the facts and benefits of each type of gas valve which will help you find the right valve for you.
Manual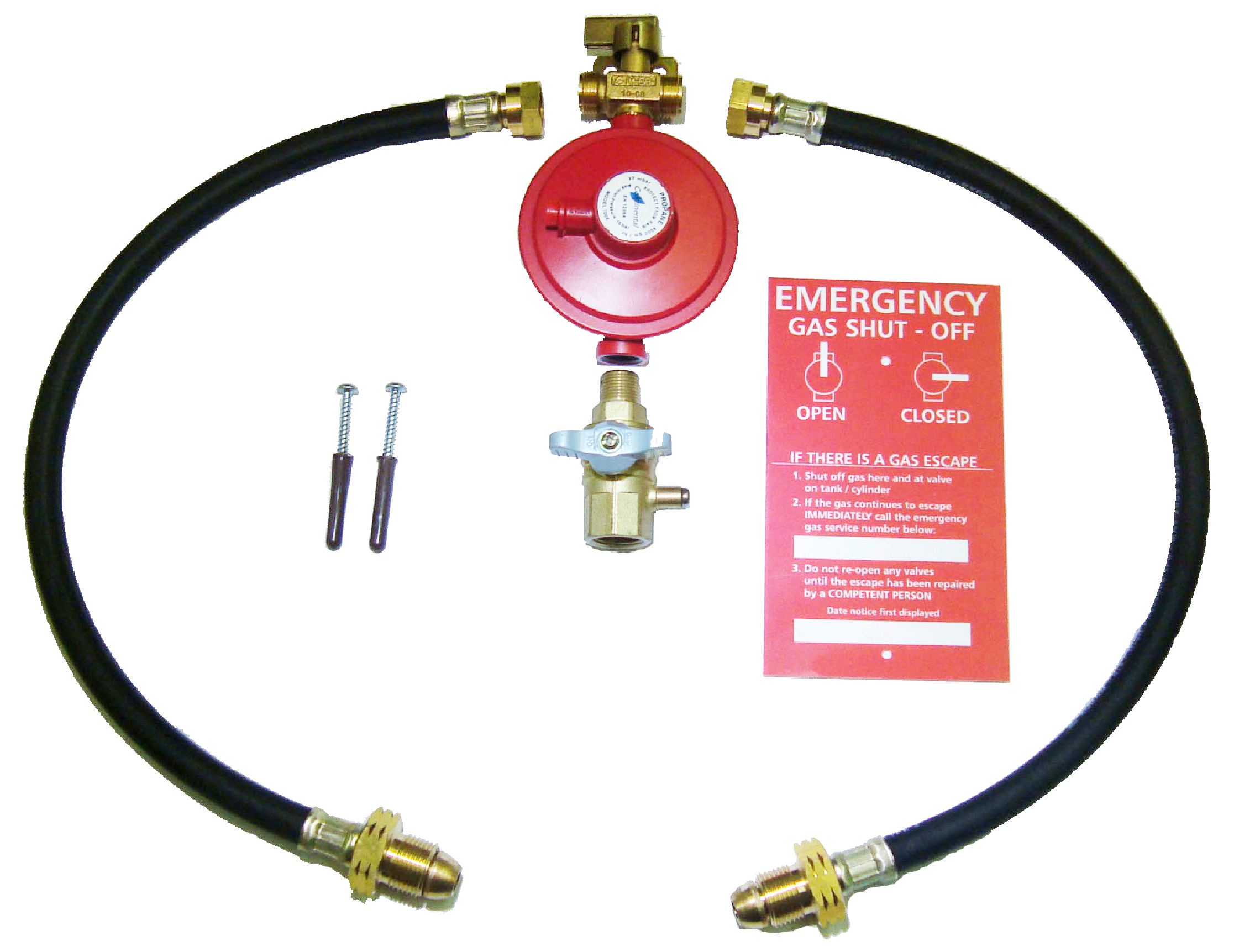 Often cheaper in price, the manual changeover kit leaves it up to you to switch from cylinder to cylinder. This means the kit will not automatically start using the next cylinder so you may get an interrupted gas supply, but if you're someone who checks their gas levels often, you may not need to buy the more expensive automatic valves. But make sure you don't forget when you've fully used a cylinder as this could result in you completely running out of gas!
The Manual Changeover comes complete with:
Two Propane Pigtails
Ball Valve with Test Point Union
Wall Bracket & Screws
Our MAN2 kit has a 4kg/hr capacity and operates on a 37mbar pressure.
Automatic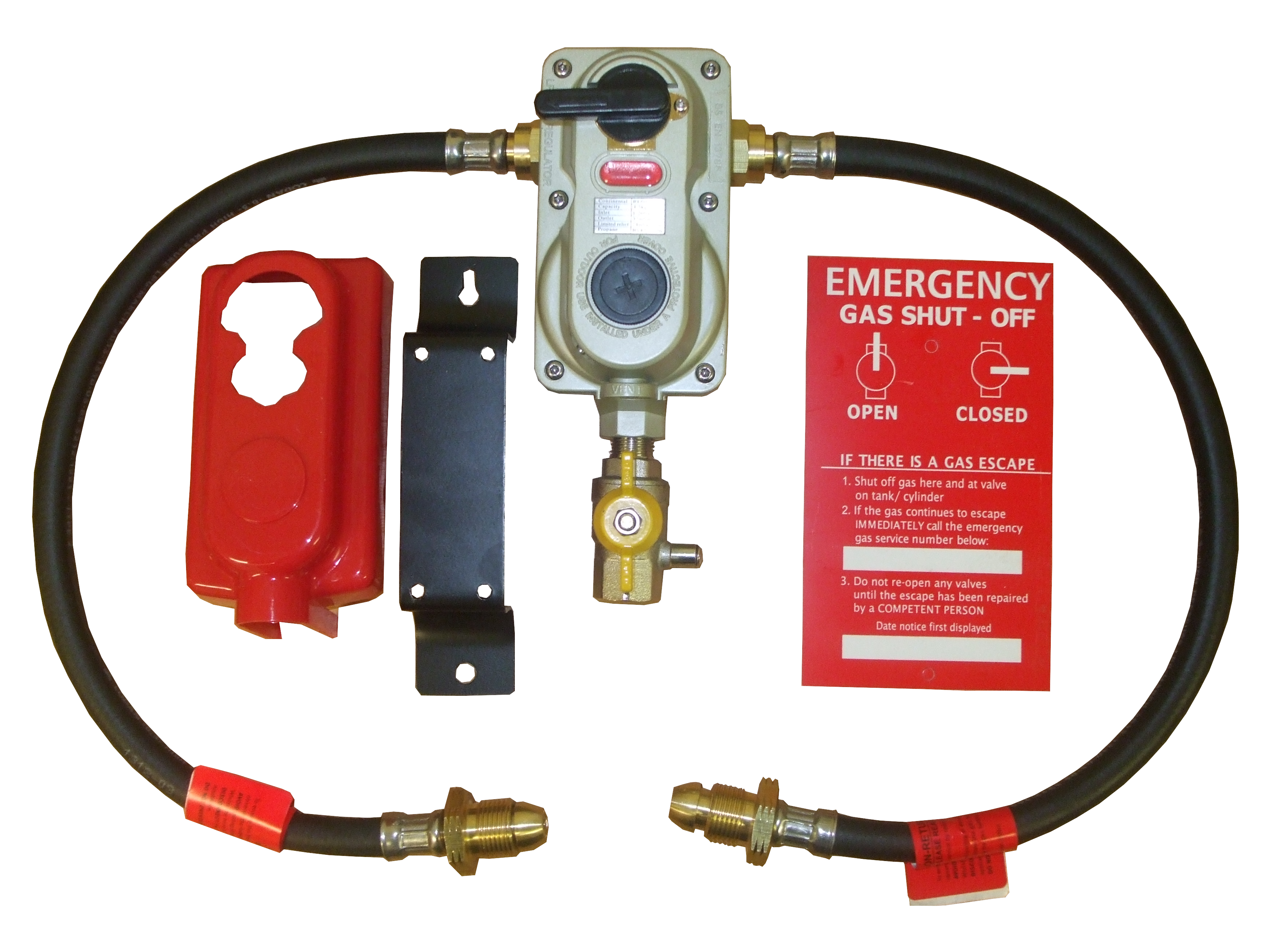 The automatic changeover valve is the most popular option. These valves will automatically switch from an empty cylinder to the full cylinder without you needing to do a thing. This feature will limit any interruptions in gas flow, which is great for anyone relaying on gas for their home appliances. It's also good if you're catering for an event where a gas interruption would be a problem when cooking.
The automatic valve also indicates to you when the switch has happened via a small window on the front of the body. You can then purchase a new cylinder to replace the empty and never run the risk of completely running out!
The Automatic Changeover comes complete with:
Two Propane Pigtails
Ball Valve with Test Point Union
Wall Bracket & Screws
Safety Plaque
Our M254 changeover also comes complete with a weather cover to protect the valve from the elements.
They operate on 37mbar pressure and range from 4.5kg/hr to 6kg/hr capacity, depending on the brand.
OPSO Automatic Changeover Valve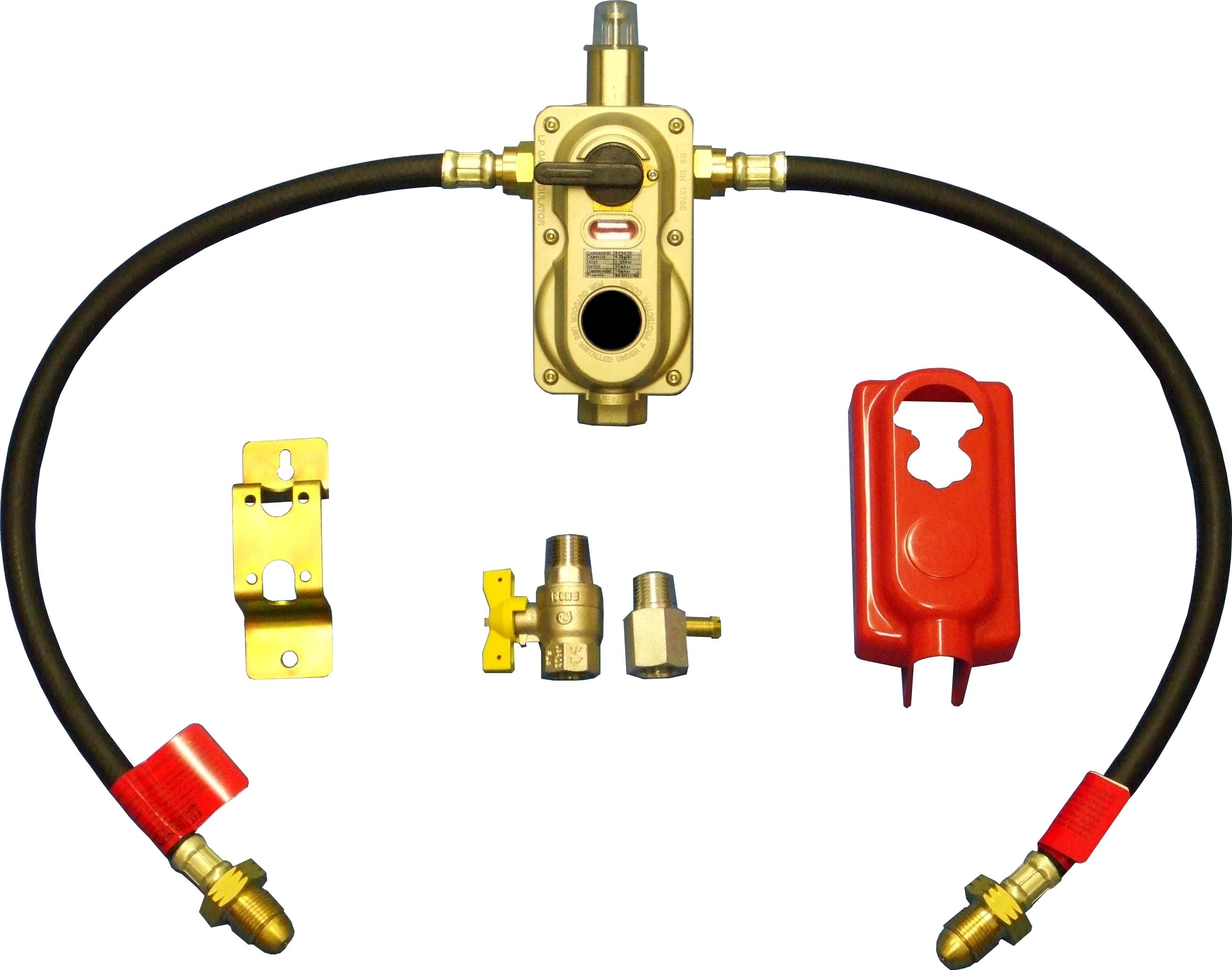 Much like the standard automatic changeover valve, this OPSO kit also will do most of the hard work for you. Switching from cylinder to cylinder and indicating to you that a cylinder is empty and ready to be changed.
The OPSO feature is an extra safety device fitted to the valve and is a legal requirement for anyone using more than two cylinders together. You can purchase the OPSO valve as a two way cylinder kit or a four way which gives you the extra LPG pigtails and connectors to attach the four cylinders together.
An over pressure system shuts off the gas flow in the event of overpressure in the system caused by a fault in the regulator or a defect in installation.
It's a good extra safety feature but it does mean your changeover kit will be more expensive.
The OPSO Automatic Changeover comes complete with:
Two Propane Pigtails
Ball Valve with Test Point Union
Wall Bracket & Screws
Safety Plaque
OPSO Valve System
Additional Propane pigtails & connectors for a four way kit available
Our CHOVER2 kit has a 4.5kg/hr capacity and operates on a 37mbar pressure. We also supply the CHOVER4 which gives you everything needed to connect four cylinders together.
Benefits Of Using An LPG Changeover
Good capacity rates for running multiple gas appliances.
Can help prevent gas supply issues.
Supplied as complete kits, ready to install.
Changeovers have a 5-year life span.
Valves come complete with a 1-year warranty.
Complete with safety features to prevent serious gas leaks.
How A Gas Changeover Valve Works?
For the purposes of this blog, we'll be talking about how an automatic non OPSO 2-way changeover works. For example, our M254 but if you need help with another model, feel free to get in touch!
On the changeover valve there is a black lever situated on the front of the body. This lever indicates what side the gas is being drawn from. The changeover will automatically use the gas from the indicated side until the cylinder is empty.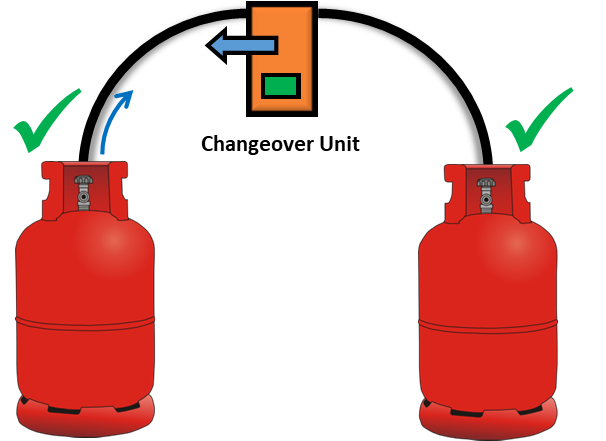 Once empty, the changeover will automatically begin to draw the LPG from the reserve gas cylinder, ensuring no interruption in your gas supply.
The changeover will give you an indication that it has had to switch cylinders by displaying red on the small window on the front of the valve. This is telling you that you now need to re-order your replacement gas cylinder and arrange for it to be fitted.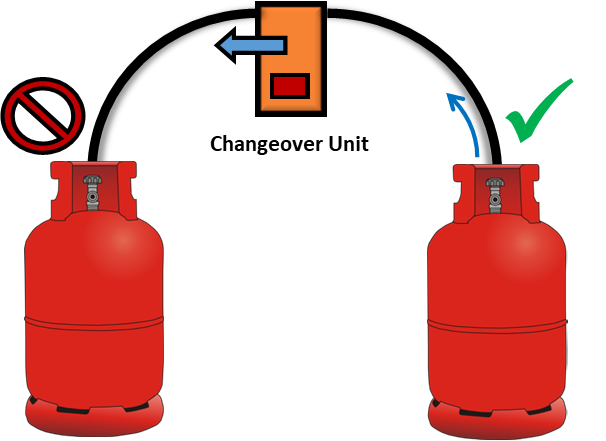 Only switch the lever over to the other cylinder when the new cylinder has been fitted. This helps you to remember you have an empty cylinder and which one requires replacing.
Once you have the new cylinder installed and the lever is re-positioned to the side it is currently drawing from, the indicator in the window will turn green, ready to indicate red for when it has emptied.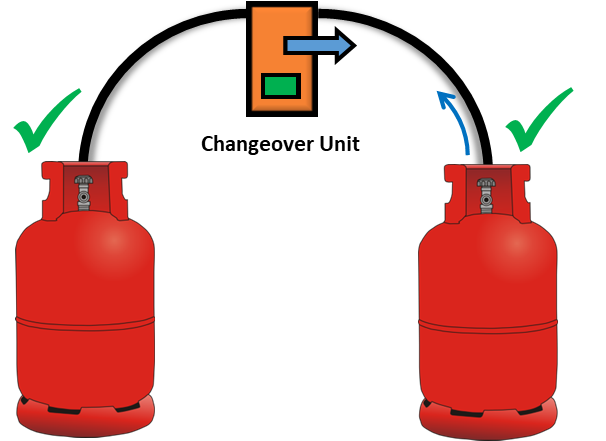 How To Correctly Position A Gas Changeover
Making sure your changeover is correctly positioned is very important. Below is a diagram showing how your changeover should be mounted. Sitting the valve below the level of the cylinders can cause condensed LPG to collect in the pigtails and body of the valve.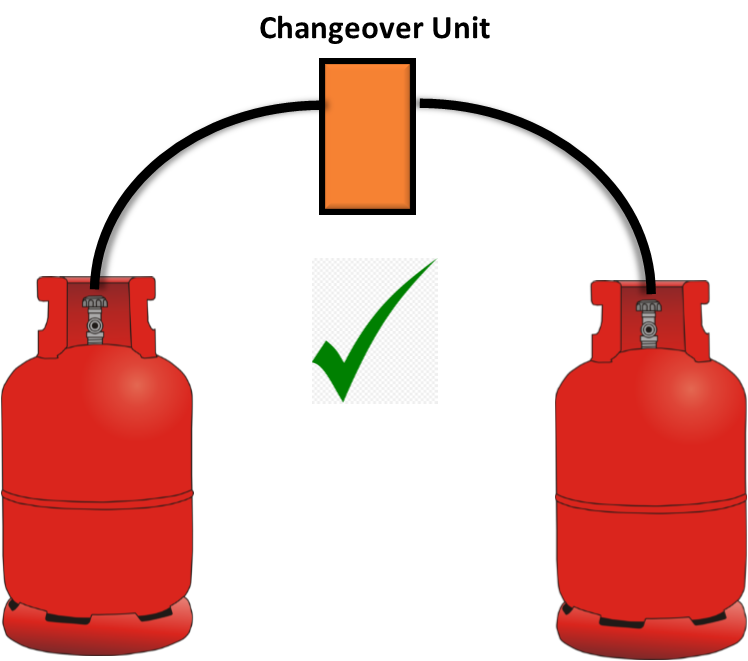 If you're unsure about the position of a previously fitted valve, check with your local gas registered engineer.
Gas Safe Installation
It's important to get a Gas Safe LPG engineer to install and test all LPG products, so you can have peace of mind you're safe when using the gas equipment.
To find a Gas Safe engineer near you visit www.gassaferegister.co.uk/
Needing to purchase a changeover valve? Click HERE to be taken directly to our LPG equipment product site!
Have a question about your LPG changeover? Feel free to get in touch!
CLICK TO CONTACT I GAS DIRECT.